Discover more from More Than A Feilding
David Slack's diary of the last few hours and decades
Over 4,000 subscribers
Parrot Fashion
Metro Living Obituary July 2015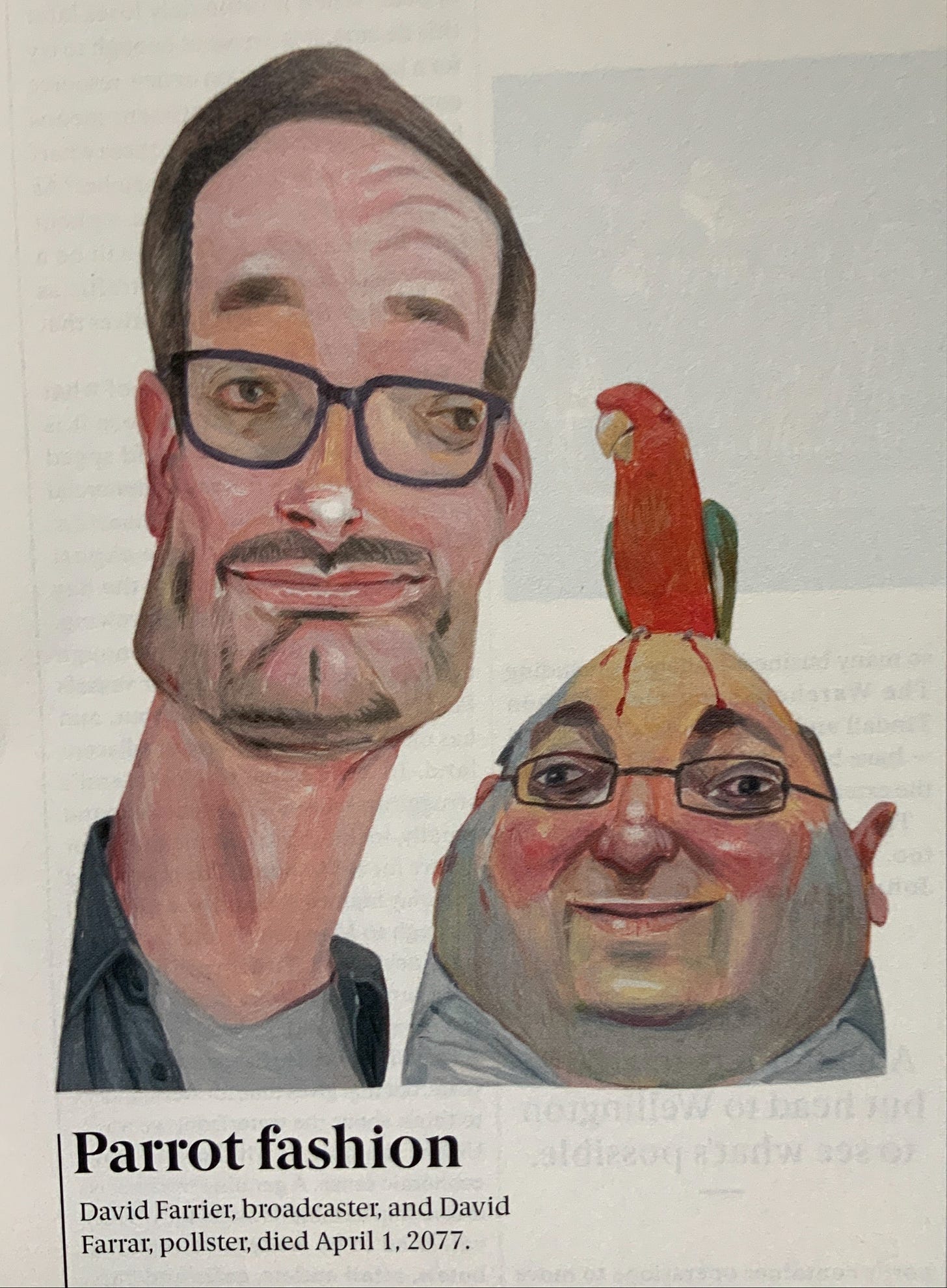 David Farrar and David Farrier had almost nothing in common and yet they would eventually become as entangled as an earphone cable. They died together, violently, savaged by a deranged parakeet, in a flat they shared with Samantha Hayes. An attractive TV presenter, Hayes is 94.
The two men's beginnings were profoundly different. Farrier was tall, ruggedly good looking; a popular head boy at his christian college in Tauranga. Farrar was more the Wellington chess club type.
Farrier liked babes and dudes, Farrar liked babes and debating. They both knew what they wanted and before long they had it: Farrier, a quirky late night TV news show; Farrar, a blog.
They came to prominence during the long administration of Prime Minister John Key, a man who believed in doing as little as possible.  In this he was assisted by Farrar, whose polling company prepared a variety of excuses for doing nothing and tested them by phoning families at dinner time. How little did people care about boat people? How untroubled were they by waitress harassment? The PM had him on speed dial.
Farrier travelled a gentler road, toting a video camera and an abundant curiosity. He sat in a sauna to better understand Colin Craig, he traveled to the Gobi Desert to better understand the Mongolian Death Worm.
The similarity of their surnames endlessly confused people.  Farrier would feel a stab of unhappiness when someone called him a contemptible stain on politics. Farrar would be sad to find he wasn't the dude Lorde was trying to phone.
But the confusion invited comedy. Together they interviewed singing twin sisters the Veronicas. They prank-called the Prime Minister. As TV current affairs rubbed itself down to a nub, their quirkiness grew ever bolder.
When Farriers' Newsworthy show began, head transplants were only being spoken of as far-off medical fantasy, but the science developed swiftly, and so did the clamour from the viewers to see the two Davids switch heads. The result was "mad", wrote TV reviewer Diana Wichtel, "but strangely compelling."
And yet behind all the laughter lay deep trauma.
In his early thirties Farrier had acquired Keith, a handsome orange parakeet, but discovered within a short time he detested the bird, so hateful and incessant was its scream.
He expected it would live another twenty years, an impossibly long time to wait for some peace and quiet. He was quite sure no-one would take it, not with all that ghastly racket. He couldn't contemplate wringing its neck.
He turned to Farrar, a master of dark arts, for suggestions. Farrar had plenty. They put Keith in a courier parcel to the Green party. They left him on the seat at a Peter Jackson movie. They did things with superglue they weren't proud of. And yet no matter what they did, he found his way back, each time more shrill, each time more enraged. Worst of all, he lived many many more years than 20.
"I told David it was going to end badly, but now I just wonder if I even told the right one," lamented Hayes. "They used to say only their mothers could tell them apart and look, I was just their flatmate" said the attractive redhead, whose new show starts this Sunday.